Choose Quality. Choose Comfort. Choose the Family That Cares.
AC Installation
Family Owned & Operated
Trusted & Highly Rated Service
Responsive & Timely Service
Family Owned & Operated

Trusted & Highly Rated Service

Responsive & Timely Service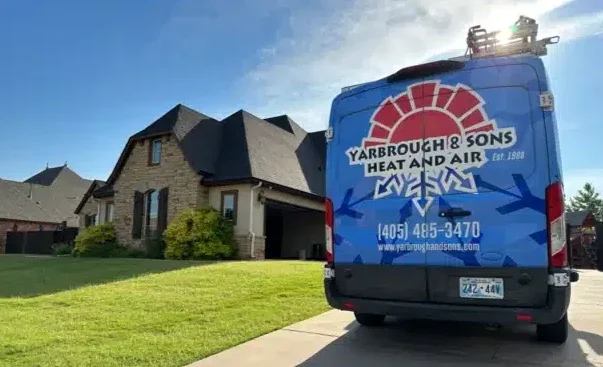 Air Conditioning Installation & Replacement in Oklahoma City, OK
Reliable And Affordable AC Conditioning Installation & Replacement In OKC
The weather has been extreme over the past few years and is likely to continue in the future. Every summer, you rely on your air conditioner to keep you cool during the hot, humid Oklahoma summers. You don't want your AC to fail on one of those 100+ degree days that are common if you live in the local area.
Yarbrough and Sons has provided top quality Oklahoma City AC installation, service, and repairs for over three decades. Our HVAC technicians have a great breadth of knowledge of the different types of air conditioners, from older models to the latest generation. We know the brands that deliver the best performance at the best price, and how to choose the ideal unit for a home or business.
When Should You Replace Your AC in OKC?
The last thing you want to experience is your AC unit going out on a hot summer day. But, how can you tell that your AC system is on its last leg? Below we have a few signs to look for in order to know when the best time to replace your AC is.
Frequent Repairs -If you find yourself having to call the AC repairman on the regular, it may be time to replace your AC system. Replacing your AC can save you money in the long run by not having to have your AC repaired every couple of months.
Strange Noises -Strange noises coming from your AC unit is never a good sign. If you notice odd noises like a loud banging or screeching, it could be a loose belt or worn-down bearings. Contact us today for our professional AC help.
End of Lifespan -As AC systems near the end of their lifespan, they tend to break down more frequently as well as run less efficiently. This can cost you more money in the long run with increased utility bills as well as repairs.
Benefits of Opting for New AC Installation in Oklahoma City
Whether you're moving into a new home or it's time to retire your old AC system, the advantages of modern air conditioning installation in Oklahoma City are significant. Here's why you should consider making the upgrade:
Enhanced Comfort: The latest air conditioning systems offer consistent and reliable cooling, creating an oasis of comfort in your home that you can rely on.
Energy Efficiency: Modern AC units are designed to be more energy-efficient, helping you cut down on energy bills while staying cool.
Improved Air Quality: Many newer AC systems come equipped with advanced filtration technology, which means you can enjoy better indoor air quality as well.
Environmental Responsibility: By choosing an energy-efficient AC system, you're not only saving on utility costs but also contributing to a more sustainable planet.
OKC Air Conditioner Installation & Repair
Installation begins with our advisers doing a multi-point inspecting your house or business to evaluate:
The number and size of rooms to keep cool
The sun exposure of your home
How well your home is insulated
The best location for efficient airflow for your AC unit
The capacity the unit needs to cool all rooms efficiently
Existing ductwork and its condition (including the presence of dust, mold, or other foreign particles)
Zone cooling options to reduce utility bills while providing comfort
Once our inspection is complete, you will understand the type of AC system you need to cool all the rooms in your home efficiently. Our goal is to help you avoid overkill with a unit too big for your home, or too small to perform efficiently, causing early wear and frequent starting and stopping, shortening the lifespan of the unit.
Our OKC air conditioning installers can get your new AC up and running quickly and you'll be delighted with the results from day one.
Schedule Your OKC Air Conditioning Installation Today
When you're ready to experience the benefits of a new AC installation in Oklahoma City, Yarbrough & Sons is just a phone call away. We understand the urgency of staying cool in the Oklahoma heat, and that's why we respond promptly to your needs. Our process is efficient and hassle-free, ensuring you get the cooling relief you require without any unnecessary delays.
Don't let the Oklahoma heat get the best of you. Reach out to Yarbrough & Sons today to discuss your air conditioning installation in Oklahoma City. Our dedicated team is ready to assist you, whether you're building a new home or upgrading your current AC system. Schedule an appointment now, and let us bring reliable comfort to your doorstep!
Book Online
Book Online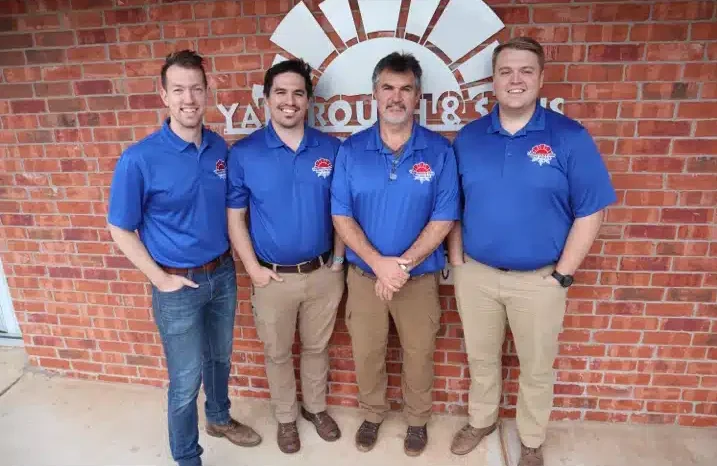 Contact Us for Emergency Air Conditioning Services
If you find yourself in need of emergency air conditioning services in OKC, don't hesitate to contact Yarbrough and Sons. Our experienced technicians are available round the clock to restore your comfort and peace of mind. Call us now, and let us handle your emergency air conditioning needs with efficiency and professionalism.