Choose Quality. Choose Comfort. Choose the Family That Cares.
Duct Services
Family Owned & Operated
Trusted & Highly Rated Service
Responsive & Timely Service
Family Owned & Operated

Trusted & Highly Rated Service

Responsive & Timely Service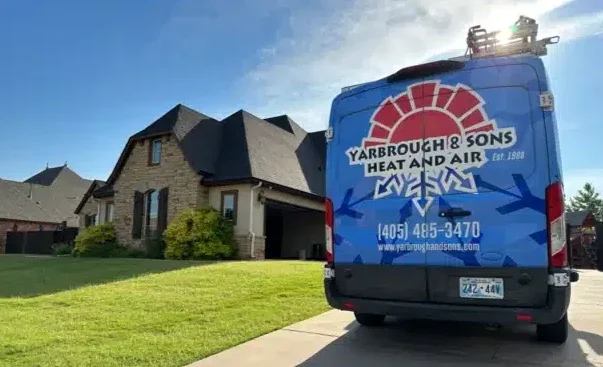 Duct Services in Oklahoma City, OK
Affordable And Reliable Duct Services in OKC
Unlike many other HVAC companies, Yarbrough and Sons can design, build, install, and maintain custom ductwork in Oklahoma City, OK. We know exactly what an optimized system should look like for each type of home or commercial building.
Custom-Fabricated Ductwork in Norman, Oklahoma City, Yukon, and Beyond
We don't subcontract our ductwork, which not only saves you money but also ensures that your ducts are built exactly to specifications. We are highly experienced at maintaining and repairing existing ductwork systems, even if installed by another company. In fact, we've had to repair enough shoddy and substandard duct systems to see the many ways things can go wrong. That will never happen with our friendly, professional, family-oriented team at Yarbrough and Sons. We know just how important proper ductwork is to a comfortable and healthy home or office environment.
Two Generations of Service in the Oklahoma City Area
We have been in the HVAC installation and repair industry in OKC for two generations, and as a family-owned company, we are focused on ensuring the best customer service. We know it is a privilege to be invited into your home, and we respect you, your family, your time, and your property. When we perform duct services, we are efficient and do all we can to minimize any disruption.
Servicing Existing Oklahoma City Air Duct Systems: Cleaning, Repair and Replacement
Our ductwork expertise extends to every aspect of your current ductwork. You can trust us to leave you with the most optimized system possible. Hundreds of clients already have.
Duct cleaning. Air duct cleaning in Oklahoma City is a vital maintenance action to reduce allergens in the air and significantly boost the performance and efficiency of your AC and heating systems. We'll eliminate any dust and debris from your ducts and make sure they are working efficiently and effectively to transport air throughout your home.
Duct repair and sealing. Leaking ductwork drives conditioned air into dead spaces in your walls and ceilings and can trigger the growth of hidden mold. It can lower your system's efficiency, increasing your energy bills while overworking your system. Our certified technicians will find the best way to repair corrosion and leaks, returning your system to the performance you paid for.
Partial or full duct replacement. Your ductwork could be past its prime, or you may have inherited a substandard or aging system when you bought your home. Newer air duct materials and constructions are more energy efficient and save you money over the course of your system's lifetime. If you suspect your ductwork may need an upgrade, we will give you a free estimate and a good idea of how you'll benefit both financially and from enhanced in-home comfort. Remember, ductwork systems have a big effect on the performance and longevity of your HVAC system.
In-house duct fabrication. We significantly reduce the cost of your ductwork by building our own ducts in our metal plant.
Call for Duct Services Today!
If you even think you might need air duct cleaning in Oklahoma City, or duct maintenance and replacement, you are probably experiencing performance loss and higher energy bills. Stop wondering and give us a call. We'll assess your system, then let you know how our Yarbrough & Sons experts can help you out.
Book Online
Book Online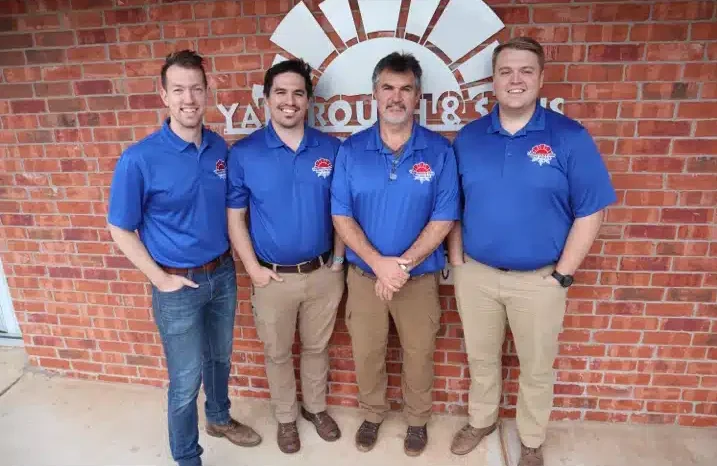 Contact Us for Emergency Indoor Air Quality Services
If you find yourself in need of emergency indoor air quality services in OKC, don't hesitate to contact Yarbrough and Sons. Our experienced technicians are available round the clock to restore your comfort and peace of mind. Call us now, and let us handle your emergency indoor air quality needs with efficiency and professionalism.